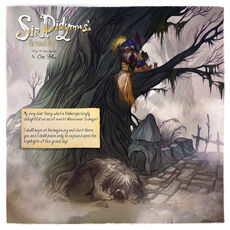 Sir Didymus's Grand Day is a Labyrinth short story written and illustrated by Cory Godbey.[1] It was released by Archaia as part of their 2013 Free Comic Book Day collection, and was offered for free at participating comic book stores around the world. Sir Didymus's Grand Day is the second official Labyrinth story to be released by Archaia.
The story is told from Sir Didymus's perspective, and chronicles his amusing encounters with Ludo, Hoggle, The Wiseman and other denizens of the Labyrinth.
References
Edit
Ad blocker interference detected!
Wikia is a free-to-use site that makes money from advertising. We have a modified experience for viewers using ad blockers

Wikia is not accessible if you've made further modifications. Remove the custom ad blocker rule(s) and the page will load as expected.